Established in 1950, Romero Arteta Ponce – RAP Law Firm Ecuador

Is one of the oldest, most important and successful law firms in Ecuador. It is ranked among the greatest and most prestigious firms in the country.
Maintaining excellent professional relations at all levels of local and national government, we offer a full-range of legal services and expertise while providing high-quality individual attention to each client.
Serving a wide-range of international and domestic clients, the firm has overseen numerous projects important to Ecuador's development. They have included, construction of oil refineries, pipelines, hydroelectric power plants, telecommunications, cement plants, and privatization projects in the areas of cellular communications, public utilities, as well as the exploration and exploitation of hydrocarbons. Romero Arteta Ponce's RAPLaw Firm ecuador consistent excellency is maintained by our team of dedicated attorneys. Each of our attorneys have graduated from prestigious national or international universities and have been licensed to practice law after excelling in a rigorous qualification process. Our attorneys have an ongoing commitment to continued legal education and participate in legal seminars (both in Ecuador and abroad) and publish scholarly works. Many are also distinguished professors of law at local universities.
Our law firm has been honored with the distinction of being selected the Ecuadorian representative of MERITAS, the largest network of independent law firms in the world.
The firm is recommended by Latin Lawyer: A Who's Who of Latin American Law Firms after comprehensive research by this independent publication.
Additionally, Romero Arteta Ponce RAPLaw Firm Ecuador is recommended by Chamber & Partners, The Legal 500, IFLR 100 amongst others, and the United States Embassy Legal Referral Directory.
We have also had the privilege of serving as ad-honorem legal counsel to the embassies of the United States, Switzerland, the Netherlands, France and others.
The firm maintains its main offices in the capital city of Quito and an associate office in the important port city of Guayaquil and can provide services in other cities of Ecuador.
Romero Arteta Ponce was founded by Dr. Gustavo Romero-Arteta (1925-1994).
Dr. Gustavo Romero-Arteta graduated with honors from Ecuador's Central University and completed his post-graduate studies in Mercantile Law at the universities of Madrid, London and Chile. In a distinguished legal, diplomatic, academic and civic career, Dr. Romero-Arteta served as: Ecuador's representative to the United Nation's General Assembly, President of the British Counsel, President of the Pichincha Province Electoral Tribunal, General Director of Immigration and Foreign Affairs, Professor of Banking Law at Catholic University of Ecuador, Representative of the Counselling Integration Committee of the Industry Ministry, Director and Legal Counsellor of the Ecuadorian Chamber of Commerce (Quito),General Manager of Sucre Insurance Company (Royal Insurance), Quito Rotary Club President, Executive Club of Quito President and Founder of the Equinoccial Technologic Institute and University.
Dr. Romero-Arteta was an eminent legal authority in the area of Commercial and Mercantile Law. His legal treatises in the field included Commercial and Mercantile Legislation in Ecuador (1958, ed. 1983), Ecuadorian Mercantile Law (1965) and Commercial Companies in Ecuador (1965). In 1988, Dr. Romero-Arteta was awarded Ecuador's National Medal of Merit, the government's highest civil honor, by President León Febres Cordero for contributions to the country.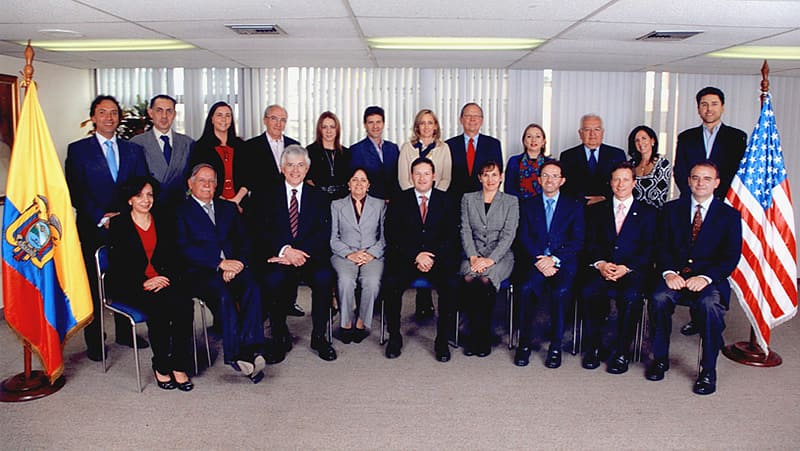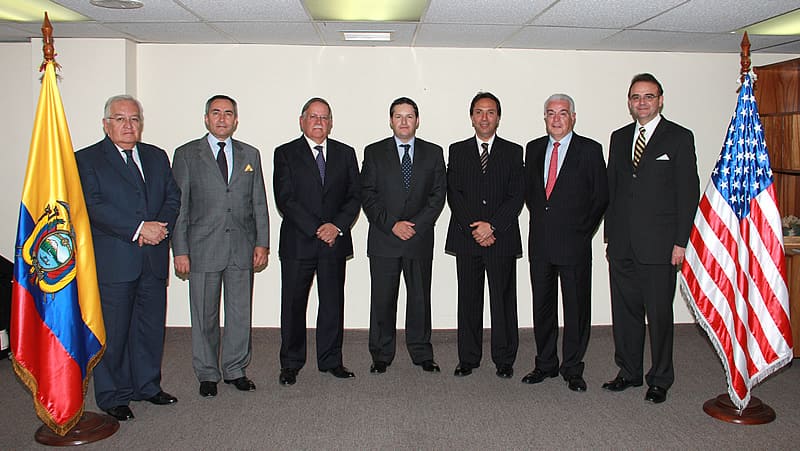 Administrative Staff and Facilities

Romero Arteta Ponce RAPLaw Firm Ecuador retains an outstanding support staff of paralegals, secretaries, accountants, legal/technical translators, as well as computer and telecommunication systems engineers.
Our personnel attend training and continuing education courses to keep abreast of developments in their fields.
With the new millenium the firm has recently moved to high-tech offices in the heart of Quito's new financial center. Our new offices are equipped with up to date teleconferencing and communication technology and contain expanded office space and conference rooms that allow our international clients to work comfortably and efficiently when visiting Quito.
Our law library contains an extensive collection of national and international legal reference books and has internet access to the Lexis/Nexis research network.
We are pleased to inform you that Romero Arteta Ponce/ RAPLaw Firm Ecuador has been shortlisted as follows en Chambers & Partners:
"Ecuador Law Firm of the Year 2015"
International Law Firm Alliances Chamber & Partners 
"We are pleased to inform you that Romero Arteta Ponce has been shortlisted as follows: Ecuador Law Firm of the Year" 2012
Romero Arteta Ponce has been selected by MERITAS LAW FIRMS WORDLWIDE as this organization's exclusive representative member law firm in Ecuador. With over 5500 attorneys representing 298 member law firms in 66 countries, MERITAS is a non-profit organization providing business clients access to service-oriented law firms worldwide. Membership in MERITAS is by invitation only and members must meet strict requirements and undergo a biannual re-certification process. 2011
The Firm is recommended by Latin Lawyer 250; Chamber & Partners; IFLR 1000 "The Guide to the World´s Leading Financial Law Firms", The Legal 500; Leader League, independent publications.
Our law firm is associated with the following organizations:
Ecuadorian Industrial Property Association (AEPI)
Ecuadorian Ameriacan Chamber of Commerce AMCHAM
Asociation Interamericana de la Propiedad Industrial (ASIPI

)
American Arbitration Association ICDR
Licensing Executive Society, (LEX)
Asia-Pacific Lawyers Association
International Bar Association
Association of International
Petroleum Negotiators, Houston, (AIPN)