Mediation and arbitration
National and international arbitration
By Diego Romero P
Arbitrator and President of the Board of Directors of the Arbitration and Mediation Center of the Ecuadorean American Chamber of Commerce of Quito- 2011-2013 and Partner of Romero Arteta Ponce Attorneys at Law.
Throughout its history Romero Arteta Ponce has been one of the innovators in the field of Alternative Dispute Resolution in Ecuador. Recognizing that traditional litigation in Ecuador can often be an uncertain and slow process, we make every effort to solve legal disputes by ADR before resorting to traditional litigation in national Courts.
Fully recognized by the New Constitution of Ecuador (2008) and enforceable by the courts, mediation and arbitration have been used with great success in a wide-range of areas to benefit our clients.
The Firm retains excellent relations with the Country´s principal alternative dispute resolution centers as well as with foreign arbitration and mediation centers.
We have also handled international arbitration and mediation cases abroad with organizations such as the American Arbitration Association AAA; IATA; Uncitral Rules, ICC Rules.
Some of our partners are actually mediators and arbitrators of the different Center in Ecuador and had been acting as experts in different international Arbitration Cases, working together with International Law Firms.
Romero Areta Ponce role in arbitration begins with the business deal. We design dispute resolution provisions tailored to our client and the particular transaction, keeping in mind the flexibility and adaptability of arbitration and its ability to offer parties of different nationalities a neutral forum.
Dispute resolution clauses may include multi-step procedures such as negotiation, mediation, and arbitration, if necessary.
Ecuador is a signatory of the Code of International Private Law (of Sanchez Bustamante), in which some rules for the enforcement of foreign rulings are established, so these should be applicable if the state that made the ruling is also a signatory of such code.
Also Ecuador is a signatory of the New York Convention in the Recognition and Enforcement of Foreign Arbitral Awards.
Acknowledgement
We are pleased to inform you that Romero Arteta Ponce / RAP has  been shortlisted as follows en Chambers & Partners:
"Ecuador Law Firm of the Year-/2015"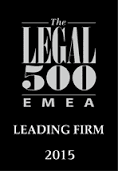 The Law Firm has several pro-bono projects. One of our to 2015 project was with THOMSON REUTERS FOUNDATION. "Ambitious legal projects have the potential to facilitate the evolution of an entire sector. The Innovation Award showcases projects that feature not only a new and exciting idea or enterprise, but a legal team that used creativity in addressing the issues faced". Romero Arteta Ponce Asociados, among other latin american law firms won the Innivation Award 2015. The video of the winning team and project is (available here)
The Firm participated as contributor for the independent publication 'Americas Diversity and Discrimination Traffic Lights 2015' and 'Americas Termination Traffic Lights 2015' ( Mayer Brown). The publication could be found here: https://www.mayerbrown.com/Americas-Diversity-and-Discrimination-Traffic-Lights/